Our Products & You
cPanel® gives you a large range of features that allow you to control virtually every aspect of your website,
Website Hosting
Secure, reliable web hosting. Your website starts  with an easy-to-use control panel and instant access to one-click apps.
specifically configured for WordPress sites, we have it all covered, every website service you will need.
T
he best value domain name registrar, cPanel, secure SSL certificates and VPS, backed by our  24/7 Australian support team.
Let us take care of everything for you!
We provide the best managed Hosting service available.
Our Web Hosting is the perfect fit for your business, blog, online store or agency. Get the spark online with 24x7x365 support.
We have a great DIY Template Website system the best price guaranteed.
99.9% Uptime Guarantee
360Cloudnet (Sunshine Coast Web Design) provides an industry-leading 99.9% uptime guarantee (SLA) on all network infrastructure.
One-Click Install.
Install your favourite web applications with simple one-click setup. One-click apps include: WordPress, Joomla, Drupal, MediaWiki, FormMail, Magento, ZenCart, Tikiwiki, phpBB and many more.
Our newest servers give you the option to run different versions of How to Change your PHP Version in PHP (7.0, 5.3, 5.4) on your account. This can be important when using third party applications, which require the latest stable version of PHP.The PHP version can only be changed on shared servers.
Easy Administration.
Our web hosting plans give you the power to configure the features you need with our easy-to-use control panel.
Website Statistics.
Measure your website's performance so you can understand what people do when they visit your website
Automated Web Application Installations.
What is Softaculous ?
Softaculous is an auto installer for cPanel.
Softaculous has 441 scripts
Free with every Hosting plan.
cPanel
Mail
Create email accounts, forwarders, and autoresponders as well as account and user-level filtering to manage email. Fight spam with BoxTrapper, Apache SpamAssassin, and email authentication. Then, use mailing lists to broadcast your message.
Security
Configure password-protected directories, IP address denials, SSL/TLS, and GnuPG key settings to restrict access. Protect your site with HotLink Protection, Leech Protect, and ModSecurity.
Domains
Set up subdomains, addon domains, parked domains, and redirects to point visitors in the right direction. Identify your site with Simple DNS Zone Editor and Advanced DNS Zone Editor.
Apps Galore
Take advantage of third-party software for blogs, bulletin boards, guest books, eCommerce, and more to build a robust, dynamic site.
Files
Edit and back up files and folders while monitoring your website's disk space usage.
Databases
Store large amounts of data and limit access using MySQL and PostgreSQL databases.
Logs
Know your audience and track your website's performance using Webalizer and AWStats.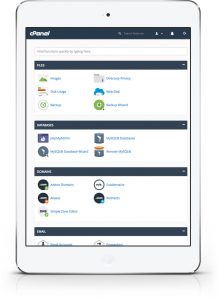 Administer every facet of your website using simple, point-and-click software.
SSL certificates are required with every website today.
SSL Certificates are small data files that digitally bind a cryptographic key to an organization's details. When installed on a web server, it activates the padlock and the https protocol (over port 443) and allows secure connections from a web server to a browser.
When a visitor enters an SSL-protected website, your SSL certificate automatically creates a secure, encrypted connection with their browser. Your site is most secure when SSL is deployed on all pages and subdomains. The padlock icon appears.
360Cloudnet has the best priced SSL certificates.
---
I found Sunshine Coast Web Design very easy to deal with and extremely accommodating. They did a fantastic job on my website and went above and beyond to ensure they met my requests. A1.
Great overall website design service with very good after sales service. Always prompt responses to any of my enquiries. We have had many issues and spent Tens of Thousands of Dollars with many other companies who did not live up to their promises. Sunshine Coast Web Design definitely do and I would recommend giving them…
Dave is the extremely responsive, professional and patient with those (like me) who don't know all the technical language and details that create a safe environment for our web sites. When my site was hacked last year, Dave took over and seamlessly helped save my site and get it back up and running within a…